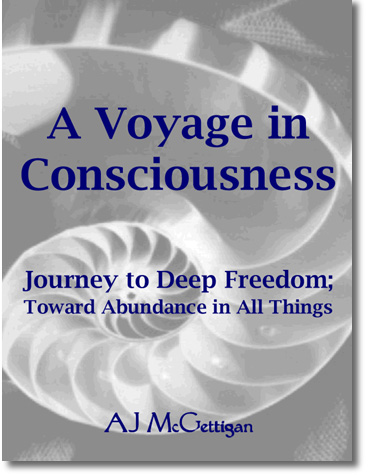 More Reader Reviews ...
"This book is written so to the point--and reveals a clarity that only arises from deep experience. It brought me great recognition and confirmation, and the joy of meeting a well-known friend on my path. I'll recommend this book to many friends and clients."
- Sukhi de Groot, spiritual explorer / massage therapist
"I really enjoyed it, and felt the words related directly to my spirit."
- Linda Sands from New Brighton, Christchurch, New Zealand
"When the soul is ready for the transition from material to spiritual this book validates and explains the shift of consciousness, like a friend sharing the path to freedom."
- Judy Mason from Campbell, Calfornia
"Thank you, AJ McGettigan. I feel validated. ... I can pick up this book any day and use it as a guide."
- Jody Embry from San Jose, Calfornia
"This poetic journey is reflection from the heart, touching all from within who choose to share the experience. You find yourself there, and through that mirror, your connection to all life."
- Judith Lynn from San Jose, Calfornia
"Thanks for writing such a lovely book."
- John Thorburn from Fendalton, Christchurch, New Zealand

Order this book | Order the Audio-Book
New Consciousness Rising
A Voyage in Consciousness | Readings & Consultations | Vibrational Voyage Radio Program
Synergize with NC Rising | Shamanic Astronomy Classes
Everyday Ecstasy | Abundance Now | Author Bio and Contact Info
Original text of Journey to Deep Freedom